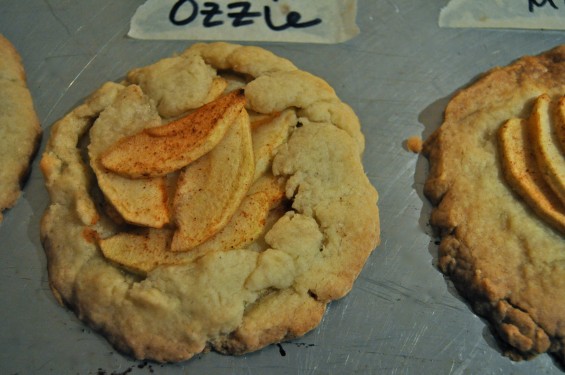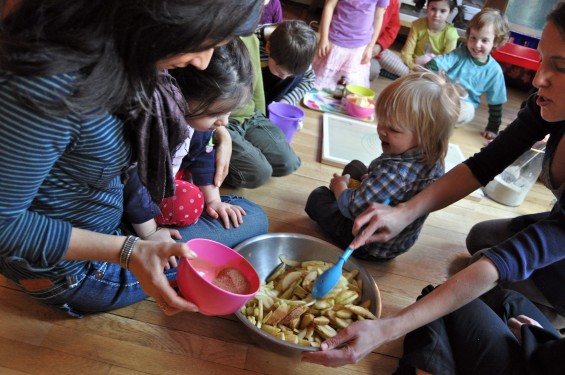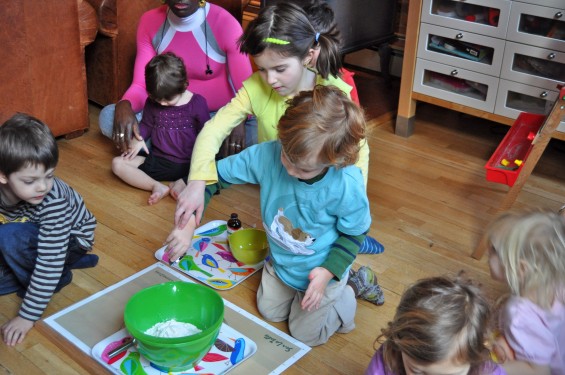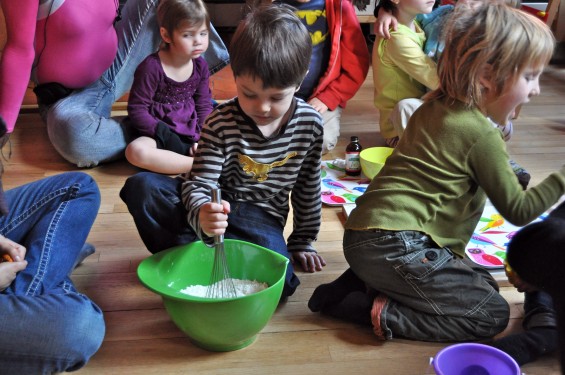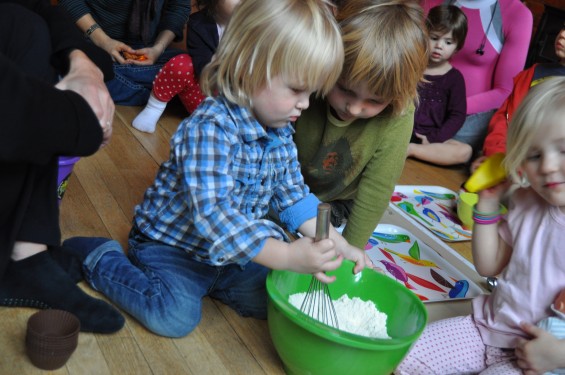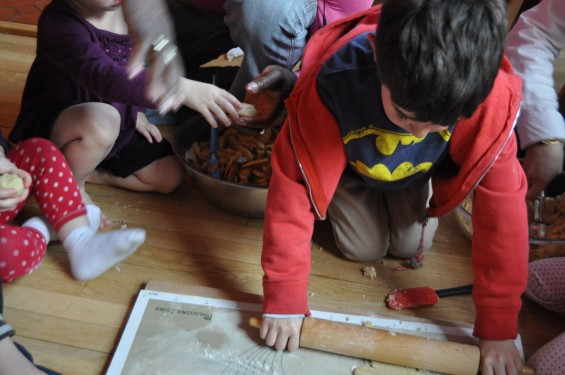 In class this week, something really beautiful was happening.  The big kids were helping and guiding the littler ones.  We have a class full of sibling pairs with the exception of one of our two-year-olds.  That single child seems to get my children, in particular, to help her out when she needs it.  While baking this week, the mini-chefs did tandem whisking and pouring, and you could often hear the older chefs calling out words of direction or encouragement to their younger co-horts.
Then, after the galettes were put together in relative calm and peace and ready for the oven, they all ran off to play together like wild hooligans.  At one point, when we went in to the kids' room to check on them, they had nearly every toy in the entire room stuffed in a tent.  Then, two of the boys decided that they would take a bath, and we discovered them (on a tip from their older siblings) in the bathroom stripping down and laughing hysterically.
Our class this year is a loud and raucous one.  Most of the older ones have been friends since babyhood, and the younger ones have followed along with their older siblings.  They are comfortable together, like cousins.  It is so very sweet to see these mini-chefs growing up together- even when their moms and I have special moments of horror: 11 children working together can make a huge mess lickety split and then move onto another big mess while we're all scrambling to clean up the first.
Despite the highs and lows, our galettes turned out so well!  One thing we all loved about this recipe for the apple galettes that we made this week is how fool-proof the dough is.  It's a sweet dough, taken from the Barefoot Contessa's recipe for Lemon Curd Tart (my favorite, but I cannot get anyone in my family besides Liev to eat it).  We just changed the flour a little bit and gave the option of adding cheddar cheese.  Because the dough has more sugar than pie crust, the traditional dough with which you would make an apple galette, we put very, very little onto the apples themselves, but spiked their flavor with cinnamon and lemon juice.  I added the cardamom in the recipe below since we love that added spice any time we are working with apples or pears in our kitchen.
Because the dough is fairly sturdy, even the two year olds can do a lot of helping.  They always like to feel the dough and work it for a long time.  Pie crust should not be handled so much, but a tart dough can take a bit more play time without becoming too dried out, weird, etc.  We thought that variations on these galettes could be made by pre-baking the crusts, spreading them with a little marscapone and sugar mixture after cooling and then topping them with berries, due to hit the greenmarkets in a couple of months.  So, if you're having your own case of Spring Fever, keep that delicious thought in mind.
Apple Galettes with an Easy Crust
For the Apples:
3 lbs. apples, peeled, cored, and sliced into 1/8-inch wedges
juice of one lemon
1/2 c. sugar
1 T. cinnamon
1/2 t. cardamom (optional)
For the Crust:
1 1/2 sticks butter, room temperature
1/2 c. sugar
1 t. vanilla
1 c. all purpose flour
3/4 c. whole wheat pastry flour
pinch of salt
cold water to make the dough come together
1/4 c. cheddar cheese, grated (optional)
Prepare the apples and toss them with the lemon juice, cinnamon, cardamom and sugar.  Set aside.
Make the dough.  In the bowl of an electric mixer, beat together the butter and sugar at a medium speed till just combined.
Add the vanilla and mix for a couple more seconds.
In a separate bowl, whisk together the flours and the salt.
With the mixer speed set to "low", add the flour-salt mixture till just combined.
Add the cheddar cheese if you're using it.
If the dough will not come together and crumbles when you squeeze a bit of it with your hands, add a tablespoon of water, mix it in, and test to see if it comes together now.  Repeat till it does.
Chill the dough for at least 30 minutes.
Preheat your oven to 400 degrees F.
Flour a board or your counter lightly, and hand your mini-chef a mound of dough about as big as a tennis ball.  Have him or her shape it into a ball and then a pancake.  place some apples in the middle, leaving an-inch of dough around the edge.
Fold the dough edge on top of the apples to finish the galette.
Place the galettes on a baking sheet and bake for 25-30 minutes, or till the edges of the crust turn golden brown.
Enjoy!