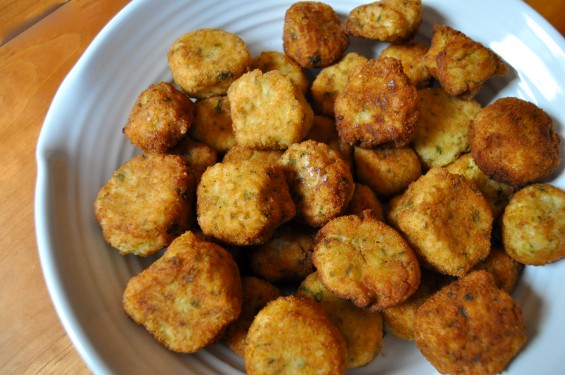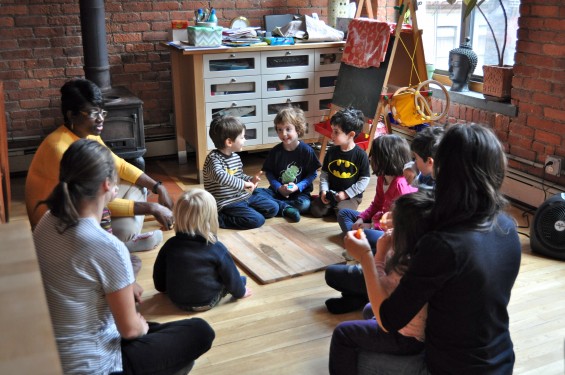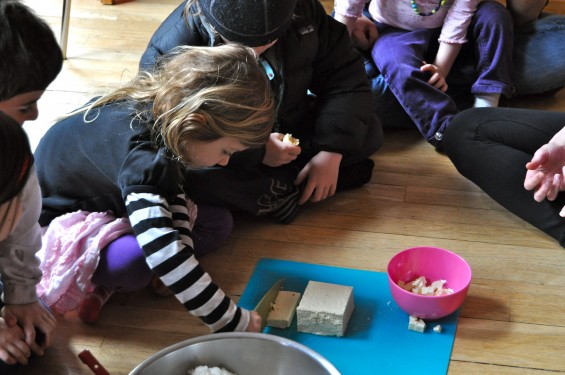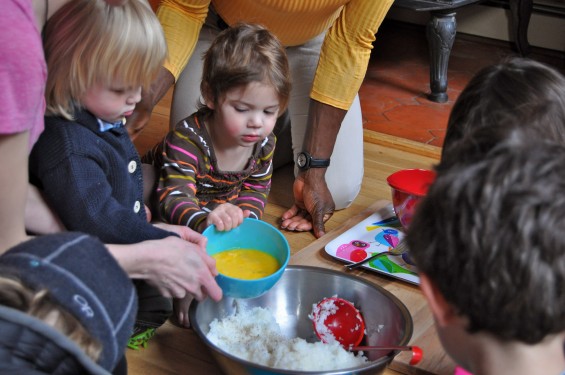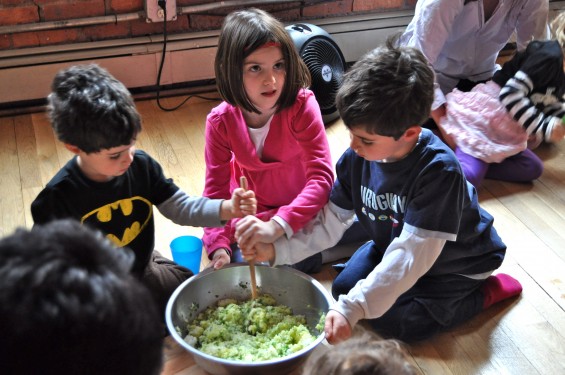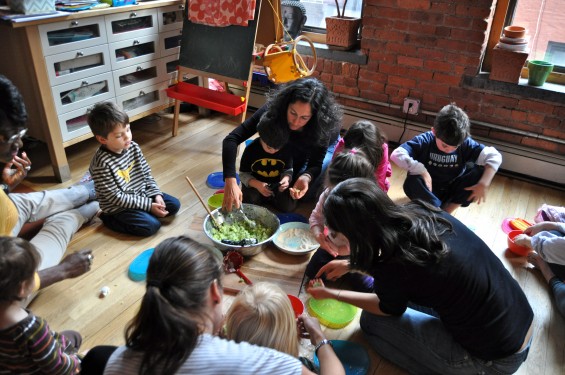 You've heard that saying, "Like white on rice"?  Well, any time rice is incorporated in what we're making in class, the mini-chefs are… like white on rice.  NOM, NOM, NOM!  They all love it.
This past week, we made one of our favorite ingredients the star of the show in a main course dish.  These rice balls, with spinach mixed in and little cubes of extra firm tofu in the middle, are sort of the Asian-fusion version of arancini, something most children will eat happily.  For this recipe we used sushi rice since you can make it very sticky by adding a bit more water while cooking it, but you could use other types of rice sushi rice is not easy found in your area.
Also, there was big news in the Tribeca Yummy Mummy kitchen!  For the first time ever in class, the older kids got to practice their knife skills.  Nope, I didn't hand them my chef's knife and let them go to town.  Instead, they got to use a plastic lettuce knife and learn to medium dice on a block of tofu.  I highly recommend.  It was a special task that only the older siblings got the privilege of performing, and you could see that the younger siblings thought it was verrrrrry glamorous… something to look forward to getting to do themselves one day.
Today, we're celebrating the very exciting launch of Kids Cook Monday!, part of the Monday Campaigns (Meatless Monday is the most famous, with celeb chefs like Mario Batali on board).  Go take a peek over at their new site, which features Tribeca Yummy Mummy's very own Soba Noodles with Sesame Sauce and Steamed Veggies this week.  Blush!  We are so honored to be part of the movement to teach families and children to take care of their bodies, cook and eat together, and eat really yummy AND nutritious foods.
These rice balls would make a perfect family meal for going meatless while staying in the yummy zone!
Spinach Tofu Rice Balls Served in Cumin Tomato Sauce
For the Rice:
2 c. sushi rice
2 1/2 c. water
3/4 c. rice vinegar
3 T. sugar
In a large bowl (one with a pour spout if you have it), measure out the rice with your mini-chef.
Fill the bowl 3/4 full with cold water, and using your hands, swish the rice around in the water.  It will look very milky and cloudy.  Pour the rice into a fine mesh sieve to drain the water.  Pour back into your bowl, and repeat the entire process till the water is clear.  This will take several changes of water.
Big Person: Once the rice has been properly washed, pour the rice, and 2 1/2 cups of water into a large heavy bottomed pan with a tight fitting lid.  Bring the water to a bowl, uncovered, then turn the heat down to low, cover, and cook for 15 minutes.  After 15 minutes, take the pot off of the heat and let stand, still covered, for another 10-15 minutes.
Meanwhile, in a small saucepan, whisk together the rice vinegar and the sugar over medium heat.  Once the sugar has been dissolved into the vinegar completely, remove from the heat and let cool while the rice cooks.
With your mini-chef, stir the sugar-rice vinegar mixture into the cooked rice.  Don't worry about over mixing.  It should be a bit sticky!
For the Rice Balls:
One recipe of Sushi Rice (see above)
3 eggs, slightly beaten
1 c. finely chopped spinach
1/2-1 t. salt
1 t. black pepper
1 block of extra firm tofu, water drained and patted dry
1 c. bread crumbs
oil for frying (instructions for both frying and baking are below)
one recipe of Cumin Tomato Sauce
In a large bowl, mix together the rice, eggs, spinach, salt and pepper.
Using a lettuce knife or a dinner knife, have your mini-chef cut the tofu into 1/2-inch cubes.
Fill a couple of shallow bowls halfway with water.  Fill another shallow bowl with the bread crumbs.
Have a baking sheet lined with parchment ready on which you can place your rice balls.
Dip your hands into the water.  Holding a handful of the rice mixture, make a ball.  Using your pointer finger, poke a hole in the ball.  Stick a cube or two of tofu into the hole.  Reshape the rice ball around the tofu, closing up the hole.  Roll the ball in the bread crumbs to coat, and set on your prepared baking sheet.  Repeat till all the rice mixture is used up.
Big Person: To cook, you can either preheat your oven to 350 degrees F and bake the rice balls for 20 minutes, or until golden brown, OR you can heat an inch of  oil (vegetable oil works well) to 350 degrees F in a wide, heavy bottomed pan, and fry the rice balls, turning them when they are golden brown on one side and browning them on the other side.  If using the frying method, cover a wire cooling rack with paper towels, and when a batch of the rice balls has been cooked, drain the oil on the rack before serving.
To serve, place a large spoonful of the tomato-cumin sauce in a bowl, place 2-3 rice balls in the sauce pool, and spoon a little more of the tomato-cumin sauce over the top.
Enjoy!