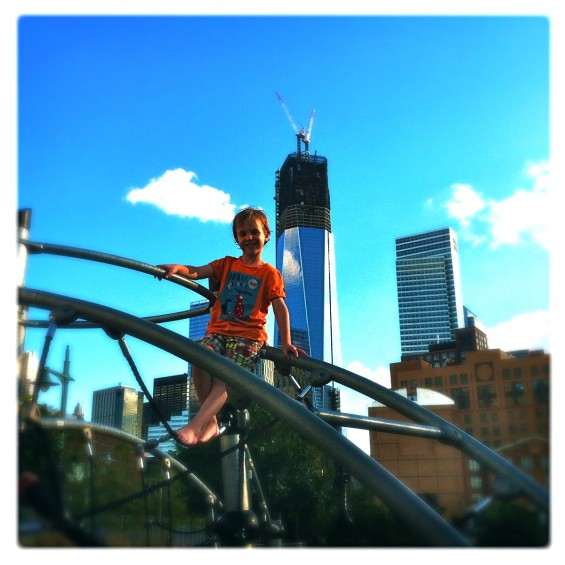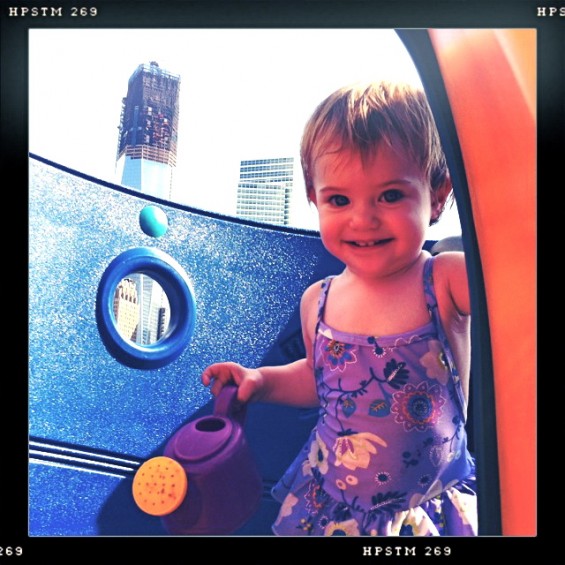 11 years ago, when two planes hit the World Trade Towers (and another hit the Pentagon), I was very young and free in New York.  I was teaching yoga and settling into the City being my permanent home.
My East Village roommates and I were fresh out of college and living in a six floor walk-up.  One of the roommates worked for an arts company across the street from the Trade Center and arrived back at our apartment early that afternoon on September 11th, covered in dust and shell-shocked.  We were not particularly getting along at the time- she did things like borrowing my clothes without asking and leaving her poor little dog alone all day resulting in him peeing all over my bed and things.  When she arrived back at our place that day, though, I burst into happy tears, so relieved that she was there and very much alive and well.
That day changed her, and she moved away from New York two months later with her pick up truck and her little dog.
I didn't have a truck or a little dog.  I just had myself that day and my friends, of course.  It was so easy to be courageous then, with so little to lose.
Last year, a few days before the 10th anniversary of 9/11, while vacationing in Ludlow, Vermont, which our family had come to think of as our August haven, Hurricane Irene hit.  On Facebook, my friends had informed me that Battery Park City and western Tribeca were being evacuated in case the hurricane decided to thrash and the Hudson to flood.  Images popped up of the lines at Whole Foods and the shortage of batteries, flashlights, etc. and the parties that people were throwing all over town: any port in a storm.
Everyone said: "Thank God you guys are in Vermont!"
In Vermont the rivers around Ludlow and Woodstock were looking glutted, but Vermonters did not seem to expect anything but perhaps a thunderstorm.  Then the day before Irene arrived was glorious, the sun shining and hardly a cloud in the sky.
We still drove an hour away to the big grocery store because my gut told me that there might be more than a thunderstorm.  Sean was humoring me.  With three small children, including an infant, I reasoned calmly, we had to be prepared with clean water and food.
The next morning the rains began.  Water came down in large sheets for hours and hours seeming like it would never stop.
In the living room, I set Mira and Liev up with paints and tee-shirts, thankful for distractions and that the sump pump in the basement was still cranking away.  The neighbors reported that the house four houses up the street had washed away.  Washed.  Away.  One side of main street, they said, was demolished, and the river was flowing right down the middle of town.  The wind was picking up now, and everyone was just praying that the trees stayed put.
Up until that day I had been in a state of absolute bliss ever since Genevieve's birth.  Nothing could invade my utter happiness or my pleasure at having her with me.  Tired though I was, life was the sweetest thing, better than anything that I could've imagined.  Having my baby girl and my husband and my 6 year old girl and my 4 year old boy was really all that mattered to me.  Even the (extended) family dramas that might have pulled me out of my bliss before hadn't swayed me from my center this time, so deeply contained was I inside my own bliss.  The morning started with me totally in love, and the day ended with me in the same ecstatic state.
The night of the storm, I did not sleep.  Instead, I held Genevieve all night long and prayed fiercely for the wind to pass us over.  The big tree outside of the house was creaking like it would come out at its roots, and its limbs swayed at bizarre angles, like broken arms.
Suddenly fear seeped inside of me so deeply that I felt it as a physical pain.  I, the one who had been so unafraid on September 11th, had ridden on my friend's bike downtown to the Trade Center site to see what might be of help, the one who was peaceful in most of life's storms, I was scared.  This was the thing: Now, I realized with horror, I had so much to lose.
That wakeful, watchful night passed, and the next day revealed the deep scars that the storm had left.  The Vermonters, oh, they lost when they had already been having such a hard time that year.  Farms everywhere already had For Sale signs posted. and businesses had been just barely scraping by.  Honestly, it felt shameful how much I wanted to leave as quickly as possible, as soon as we could find a road out of there, and yet I prayed with all my might that a road would open up soon and that we could go home, back to New York City and away from all of the heartache.
Arriving in New York was like receiving a warm embrace.  Nobody even really knew what had happened in Vermont, and that felt both wonderful and terrible, like the whole thing might have been a figment of our imagination.
Even back in New York, though, the past year has been tinted with the fear that permeated my consciousness during the hurricane and the wakefulness that never left me since that night.  Genevieve felt it.  After that night, she never slept like she did before the storm.  It was like being under all that water, treading and gasping and wild with fright.
This August as we were received by friends in Vermont and Upstate New York, almost as quickly as the fear came, it loosened and pulled away.  Did you see this Slip-n-Slide post?  I swear to you that day was like a panacea.  The deep joy flooded back in.
Today, 11 years after that terrible day in New York City, I looked at the pictures, above, of Liev two days ago and Gigi from back in June.  One of the new Freedom Towers is popping up behind them in the skyline.  Their faces, those sweet and innocent faces, fill me up with joy.  I can see the healing, friends, I can feel it.