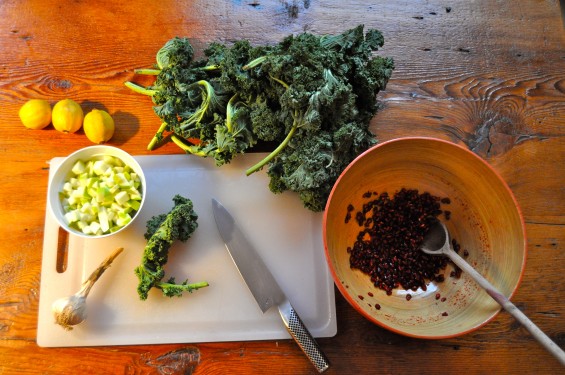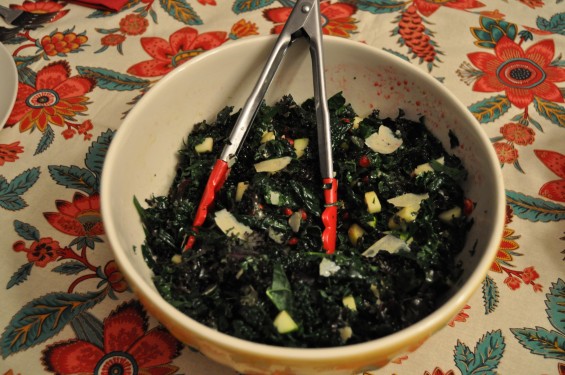 This salad totally cracks me up.  Made first on a whim and unrequested for my step-aunt-in-law's Rosh Hashana dinner, this salad has taken my friends and family by storm.  It is a version of what I made all summer involving peaches or nectarines or plums or….
It was devoured at Aunt Joey's dinner, and one of her best friends in the world swore that, though she normally cannot stand kale-even kale chips-this was delicious.  Keep in mind that I served it vegan, without the parmesan cheese, to serve everyone with dairy allergies there.  Since it was such an unexpected hit yet so easy to swing, I made it again for various dinner parties and potlucks.  This little salad has given me clout with foodies and opened small doors to new friendships.
One friend even propositioned me to start a business around it: "It's better than that kale salad that everyone says is the best at [insert fancy and delicious restaurant in our neighborhood that is famous for their kale salad but that I don't want to diss here in any way]."
Ha!
So, after much haranguing about sharing the recipe, here it is, Yummies.  No biggie.  Crunchy, fresh, and totally simple to make.  I like it a lot but am not quite sure what all the fuss is about.
Chopped Kale Salad with Pomegranate and Apple
For the Salad:
2 bunches of kale, stemmed and cut into ribbons

1 pomegranate, seeded

1 crisp apple on the tart side (Granny Smith, Fuji, Honey Crisp), diced

optional:  a handful of golden raisins, a few shavings of parmesan cheese, toasted slivered almonds, pumpkin seeds, etc.
For the Dressing:
1/4 cup olive oil

the juice of one lemon

1 clove garlic, minced

1 t- 1 T. local honey

salt and freshly ground black pepper, to taste

optional: 1 t. mustard powder, a t. of any favorite vinegar
Have your mini-chef squeeze half of the lemon over the apples.  Toss the juice and the apples together and place in the  bottom of your serving bowl.

Place half of the ribbons of kale over the apples.

Cut the pomegranate in half width-wise.  Hold one half of the pomegranate, skin side up, over a wide, deep bowl and, using a wooden spoon, beat the seeds down and out into the bowl.  Repeat for the second half of the pomegranate.  Place the seeds on top of the apple-kale stack in your salad bowl.

Next, place the other half of the kale ribbons on top of the pomegranate seeds.  Add any other ingredients: almonds, raisins, parmesan, etc.  You can cover and place your salad in the fridge till just before serving time.

Make the dressing: There are two options.  Either place all of the ingredients in a mason jar and shake, or if you like to be extra fancy, or don't mind cleaning your blender, put everything in the blender and blitz.  As always, please make sure that the blender is unplugged until the top is secured if your mini-chef is helping!

Just before serving, toss the salad with the dressing.  Enjoy!