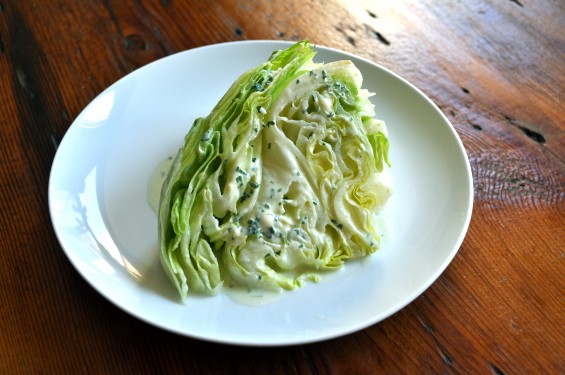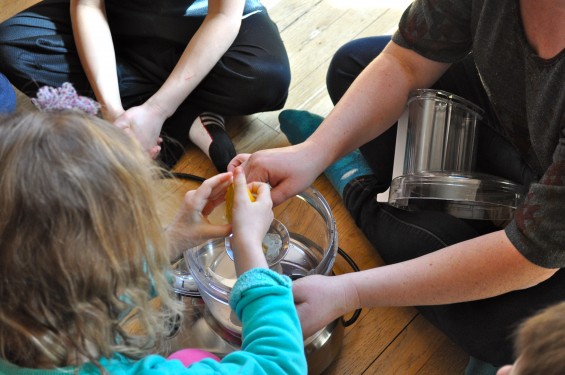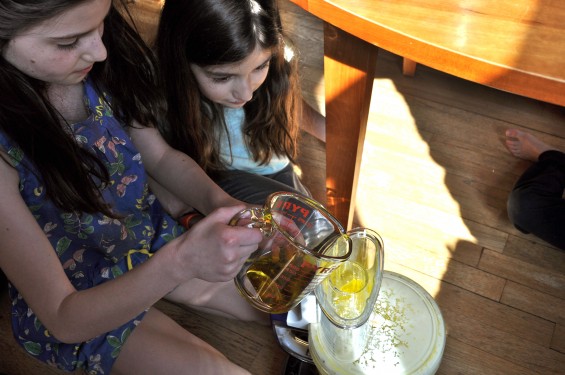 A few weeks back, my older daughter came to me saying she would like to try salad. Trying not to show my surprise, I told her that I could probably hook her up with some salad seeing as we have one several times a week around our place. My son loves salad and eats them very adventurously: kale, fennel, mixed greens, every fruit and every dressing we've ever offered. Perhaps Mira was feeling left out since guests always commend Liev on his salad eating.
When I was a little girl, six years old and a bit of a fussy eater, I ate and finished a salad for the very first time ever. My family gave me a standing ovation. I will never forget being pulled up onto my mom's lap and told how proud of me she was for eating my iceberg lettuce, cucumber, and Italian dressing salad.
What kind of salad might we make for Mira that she would actually consider eating? Iceberg lettuce, with it's mild flavor and sweet crunch, definitely came to mind. The classic wedge salad served kid style- with a homemade creamy ranch dressing in place of the blue cheese that usually accompanies it.
In class, we set out to make our wedge salads by first making homemade mayonnaise, a very important ingredient in ranch dressing. We used raw eggs from the farmer's market.  We discussed the fact that pregnant women, very young children,the elderly, people with immune deficiency, etc. should not eat something made with raw eggs, and this is the disclaimer: DO NOT EAT RAW EGGS IF YOU ARE PREGNANT, A YOUNG CHILD, ELDERLY, HAVE AN AUTO-IMMUNE DISEASE, OR DO NOT KNOW FROM WHERE YOUR EGGS COME.
While I will not touch store bought mayonnaise, using the fresh raw eggs and making the homemade stuff puts mayonnaise in a whole other category. It is creamy and yummy and silky and good, and if you make it in the food processor, as we did, then it is also very quick to make and very economical. You will want to refrigerate the mayo and/or ranch dressing as soon as you make it or serve it immediately, and please use good sense.  If it is a scorcher outside, or inside your kitchen for that matter, keep everything cold as you make it.
Mira did try the salad, and guess what? No cigar. She has not yet joined the salad eating club. She did try it, though, and she will, I hope continue to push herself out of her comfort zone. A lot of the other kids in class woofed it down, and we have added a new (old) salad to our weekly line up at home.
This wedge salad would still make a really great starter salad for anyone who is unsure about eating green things but wants to give salad a chance. Try it with your mini-chefs, and let me know how it goes.
Wedge Salad with Homemade Ranch Dressing
For the Mayo (makes about 2 c.):
the juice of one lemon

a pinch of salt

a pinch of dried mustard

2 raw eggs, taken out of the refrigerator 30 minutes before using

3/4 c. olive oil

3/4 c. extra virgin olive oil
Combine the lemon juice, salt, mustard and eggs in the base of a food processor fitted with the blade attachment.

Secure the top of the food processor and turn it on. Slowly, slowly add the oils in a very fine stream. When all the oil has been added, you will have the tasty emulsion, mayonnaise.
For the Ranch Dressing:
2 c. buttermilk

1 1/2 c. greek yogurt

1 large clove of garlic, chopped into 4 pieces and woody end discarded

2 T. chives, chopped

1 large handful of parsley, chopped

1 1/2. c. mayonnaise

1/2 t.  salt

black pepper, to taste
Place everything in the food processor and blend till smooth.
To Assemble Salad:
1 large head of iceberg lettuce, washed and cut into large wedges

1 -2 c. ranch dressing
Place the iceberg wedge on a salad plate and spoon the dressing over the top, to taste.