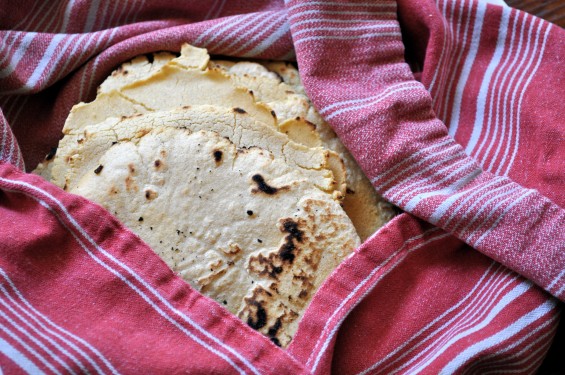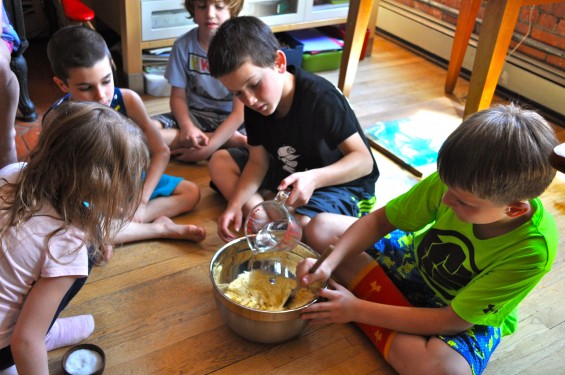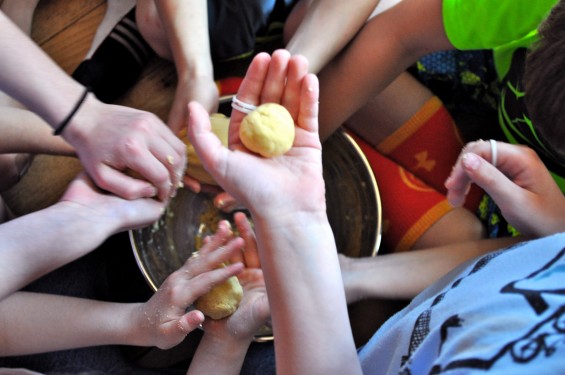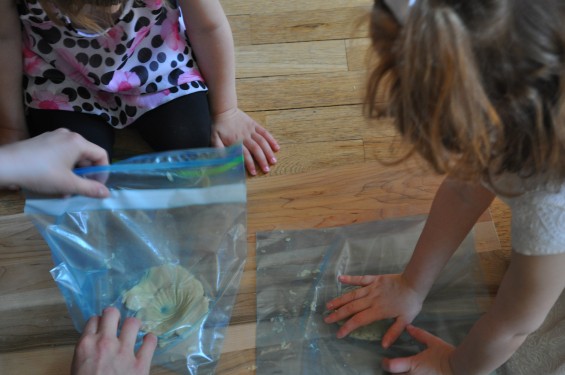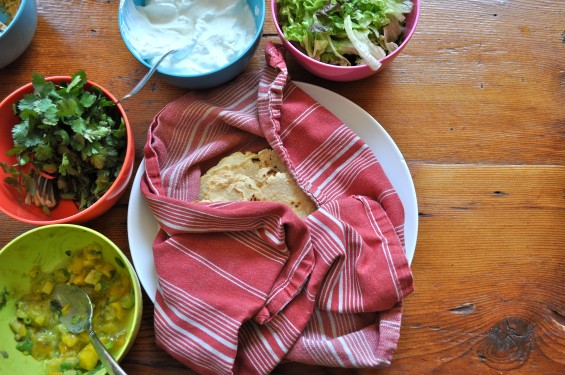 This past Monday was Cinco de Mayo, and the mini-chefs celebrated by making some soft tacos, complete with homemade corn tortillas.
Since my mom grew up in New Mexico, we never really had anything but homemade tortillas growing up. Her sister, my Aunt Holly, and her husband owned a Mexican restaurant when I was a child, and there I remember being served soft, steaming flour tortillas and refritos (refried beans) and a little sprinkle of cheese, which still might be my favorite, favorite meal of all time.
Growing up, my own mother, a doctor with a hefty work schedule, never made tortillas, but in recent years she began making them herself. We have definitely reaped the rewards of her corn tortillas in Huevos Rancheros and chalupas, which my children love and beg her to make.
Making a good corn tortilla is an art form all to itself, simple but subtle. I realized that, as I prepared for Monday's class, I had never asked my mom for her corn tortilla recipe. What I learned is that, you barely need a recipe at all. You mostly need to use your senses.  Does the dough feel and look right? Can you shape it?
The mini-chefs had varying degrees of success with the shape of their tortillas. We had no tortilla press, and because this is a group class, we used the plastic bag technique, which was what seemed the easiest technique for cranking out a bunch of tortillas with the use of many hands.
This is not so much of a proper recipe as a suggestion of how to begin and proceed with the corn tortilla making process. The youngest chefs will need a little more guidance. Genevieve poked holes in the middle of her tortillas during the shaping process. Who am I to say, though; this might become a fad like cronuts.  Whatever the journey to get there, the corn tortillas were divine.
Corn Tortillas (makes about 8 tortillas)
1 c. masa harina

1/2 c. warm water to begin + more to make the dough just right
a large pinch of salt
gallon-sized plastic zipper bag, cut on one side seam, from the zipper to the folded bottom edge
oil to grease the frying pan (grape seed or canola work well)
In a large bowl, whisk together the corn flour and the salt.
Pour in the 1/2 cup of water and mix it in with a wooden spoon till you need to switch to using your hands. Knead the dough into a large, smooth ball. We are going for the consistency of Play-doh, not too wet and not too dry. Add more masa harina or more water, a tablespoon at a time, till you arrive at just the right consistency. Let the dough rest for at least 20 minutes, uncovered.
Take a medium handful of dough and sculpt it into a smooth ball. Place that inside the middle of the zipper bag and push down on the dough ball inside to make a pancake shape. Use your hands or a small rolling pin, and turning the bag in a circle, flatten your tortilla till it is an 1/16-inch-thick circle. Carefully peel the tortillas from the plastic bag and place it directly into your pan to cook.
Big Person: Heat up a couple of heavy-bottomed frying pans to medium high, pour a little oil into each pan, grease and, using a paper towel, wipe each pan so that you have a very fine layer of oil, covering the bottom of each pan.
Cook each tortilla for 1-2 minutes and flip when the edges of the tortilla begin to curl up. You can use tongs to flip the tortillas,
Wrap the cooked tortillas in a clean kitchen towel till the whole batch is done. Let steam in the towel for 5 minutes before serving. We also like to use a spray bottle of water to mist the kitchen towel and increase the steam on the tortillas as well as the softness of the corn tortillas.
Enjoy!