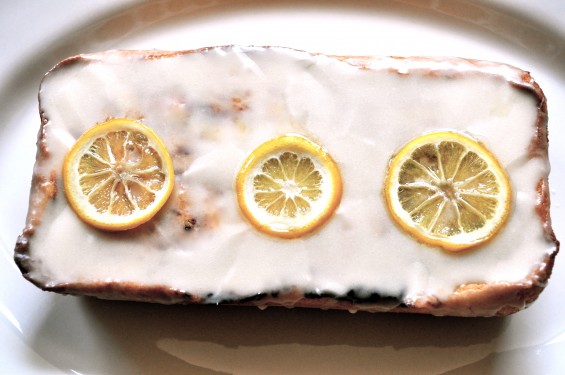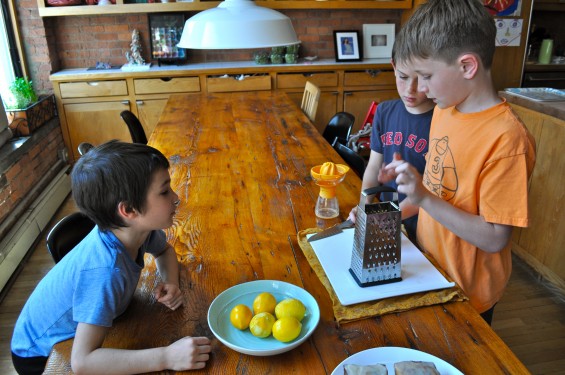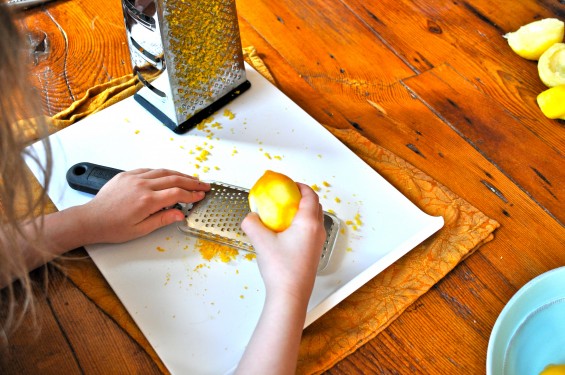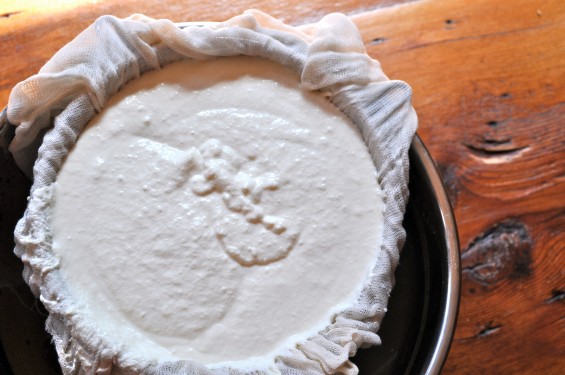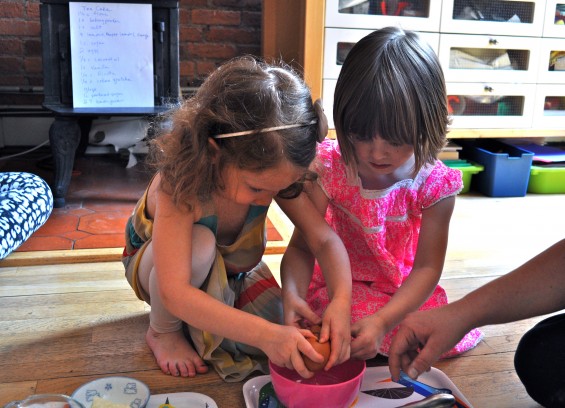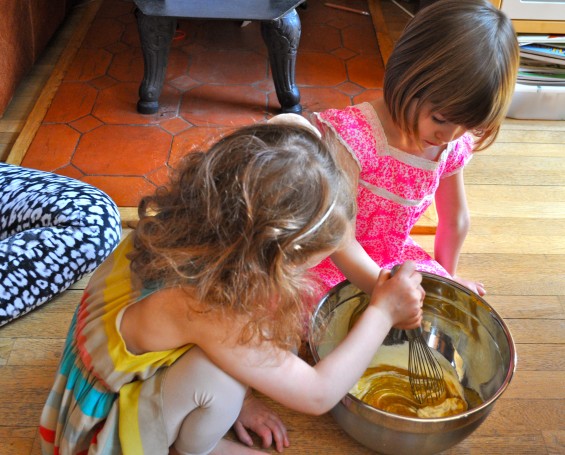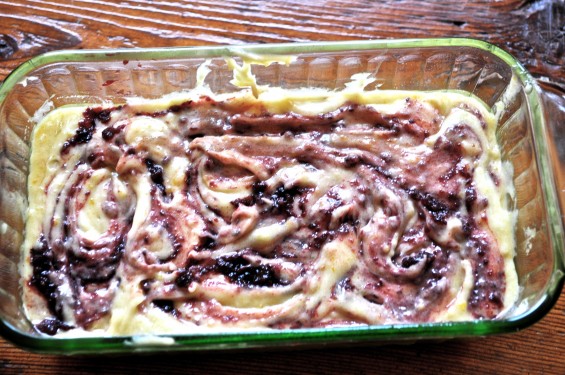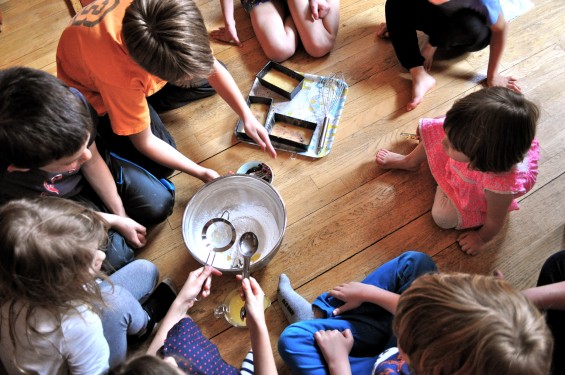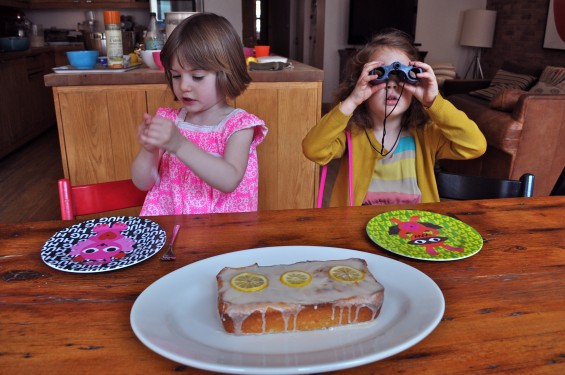 During each cooking class semester, we make one dessert, and the mini-chefs let it be known that they wanted that dessert to be cake this semester.
In a rather bleak part of this year's frigid March, we were all craving sunshine. Around the same time on Facebook, a friend was having her birthday and was treating herself to a slice of lemon ricotta poundcake for breakfast. The power of suggestion. Well, with freshly made ricotta, made by none other than the mini-chefs, in my fridge, it was clear what I must do:  A bright citrus cake made with that creamy ricotta and well, while we are at it, why not add a swirl of jam?
This cake, which we made with the ricotta but also homemade creme fraiche (make it yourself by combining 1 part buttermilk to 2 parts cream in a glass jar, stirring it a few times over the next 24 hours, and leaving it right out on your kitchen counter, uncovered, till it is thick and delicious), coconut oil, and raspberry jam, is moist, tangy and sweet. The lemons can be regular, old lemons if you like a more sour flavor, or you can dip into Meyer lemons or even try mixing one large orange with two lemons. You can use limes, too, but since there is a lime shortage, save those for your guacamole. The jam? Experiment. We used both raspberry and sour cherry, and nobody kicked either version off the table.
Even the kids who always pick chocolate over citrus or berry loved this cake. At the end of class, I let the mini-chefs have dessert before dinner because, really, why not? Spring is finally here. The sun was finally shining. They all left with a satisfaction that can only come from making their cake and eating it, too.
Lemon Ricotta Cake with a Raspberry Jam Swirl
For the Cake:
1 1/3 c. flour

1 1/2 t. baking powder

1 t. salt

4 medium lemons (or Meyer lemons or 1 large orange + 2 lemons), zested first and then juiced

1 c. sugar

2 eggs, room temperature and slightly beaten

1/4 c. ricotta cheese

1/4 creme fraiche (or sour cream)

1/3 c. coconut oil + some to grease the pan(s)

1 heaping t. vanilla

1/2 c. raspberry jam
Preheat your oven to 350 degrees F. Grease the bottom and sides of one regular or three small loaf pans.

In a medium bowl, whisk together the flour, baking powder, and the salt.

In a large bowl, whisk together the lemon zest, 1/3 c. lemon juice, sugar, eggs, ricotta, creme fraiche, coconut oil, and vanilla till they are completely integrated. Add the dry ingredients, and stir them with a rubber spatula.

Pour them into the prepared loaf pans, spoon in the jam, and swirl the batter and jam together gently with a fork. Bake for about 30-40 minutes for the mini-loaves and about 60-75 minutes for the regular loaf. They should be golden brown and a toothpick stuck in the center should come out clean.

After letting them cool for 5 minutes out of the oven, turn the cake out onto a wire rack to cool completely (about an hour) on a rack before glazing.
For the Lemon-Vanilla Glaze and Candied Lemon Slices:
1/4-1/2 c. lemon juice

1 c. confectioner's sugar

1/2 t. vanilla

1/2 lemon, washed and sliced as thin as possible width-wise into circles

1/4 c. water

1/4 c. sugar
In a small sauce pan, whisk the water and 1/4 c. sugar together for a few seconds over high heat. Add the lemon slices in one layer, and let them simmer till the rind begins to look translucent and the sugar water syrup mostly evaporates. Let cool completely on a rack.

Over a large bowl, sift the confectioner's sugar. Whisk in 1/4 c. of the lemon juice and the vanilla. Taste to make sure that it is both sweet and sour. Add more lemon juice if you want more of a sour kick or if the glaze is too thick.

Place the loaf or loaves facing up on the cooling rack. Underneath the rack place a rimmed baking sheet lined with parchment. Use a large spoon to drizzle the glaze over the top of the loaf. Place the candied lemon slices on the top of the loaf to finish.