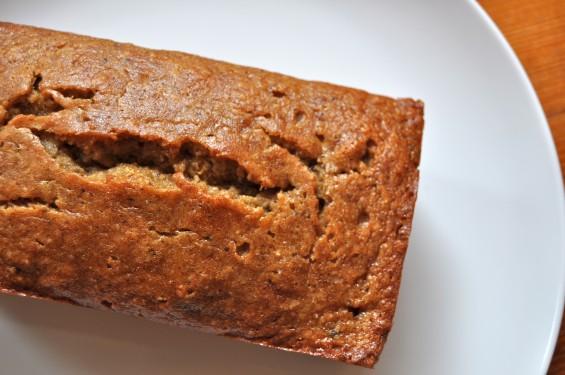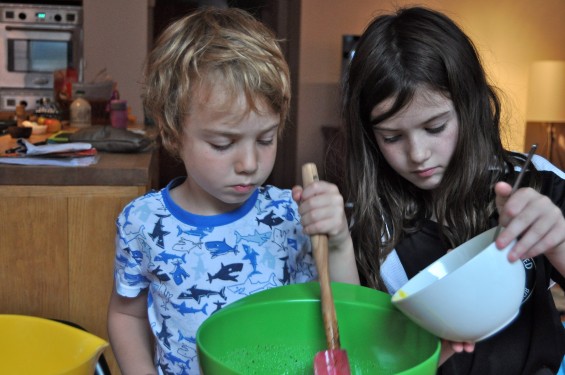 One day when Mira was about 4 and Liev about 2 and keeping me busy, the phone rang while I was melting the butter for this recipe.  Someone was asking for a phone number or a play date, etc., and I left the kitchen for a couple of minutes to attend to the request.  When I came back, I smelled one of my favorite things in the whole wide world: brown butter, and I couldn't believe that I had not thought to use it instead of regular melted butter before that.
Now I can ask: What's better than banana bread?  Brown Butter Banana Bread!
Assembling the ingredients is no small thing considering bananas usually do not make it to the overripe state around here.  We buy a couple of bunches of bananas and then start talking about how good the bread will be, and end up, more or less, with the four bananas we need to make it.
Friends have been hounding me for this recipe ever since then.  It is truly more tea cake than super healthy muffin, but after messing around with the recipe for this several years, even pre-brown butter stage, it now has reached a firm place in our family recipes.
It is good, as is.  You might, of course, try slathering it with something seasonal, like apple or pear butter, or some raw, local honey, just to gild the lily.
Brown Butter Banana Bread
4 very ripe bananas
1/2 c. (1 stick) of butter, melted and browned to an amber color
1/3 c. sugar
2 eggs
2 t. vanilla
optional: 1 t. brandy, rum, bourbon, etc.
1 1/4 c. whole wheat pastry flour
2 t. baking powder
1/2 t. baking soda
1/4 t. salt
Preheat your oven to 325 degrees F.
Grease or paper 3 mini-loaf pans, 1 regular loaf pan, or a 12-cup muffin tin.
With a big fork or a potato masher mash the bananas till nearly no lumps remain.
After the brown butter has cooled down, whisk it together with the sugar in a large bowl.
Add one egg, stir, and the other egg, and stir again.
Next add the vanilla and the liquor if you are using it.
In a separate, medium bowl, whisk together the dry ingredients.
Add the dry ingredients to the wet ones and stir until they are well incorporated.
Pour the batter into the baking pan.
Bake till a toothpick inserted into the middle comes out clean.  For a standard bread pan, that will be about an hour or so, for a mini-loaf, 30 minutes, and for muffins, about 20 minutes.